Hi All
my finds from a ten day trip in the Yalgoo area,one speci 75.3 grm and 3 pieces for about 6 grms.
Hoping to get 60 grms from speci once it has been crushed.
Not decided yet if to keep it as speci or crush it.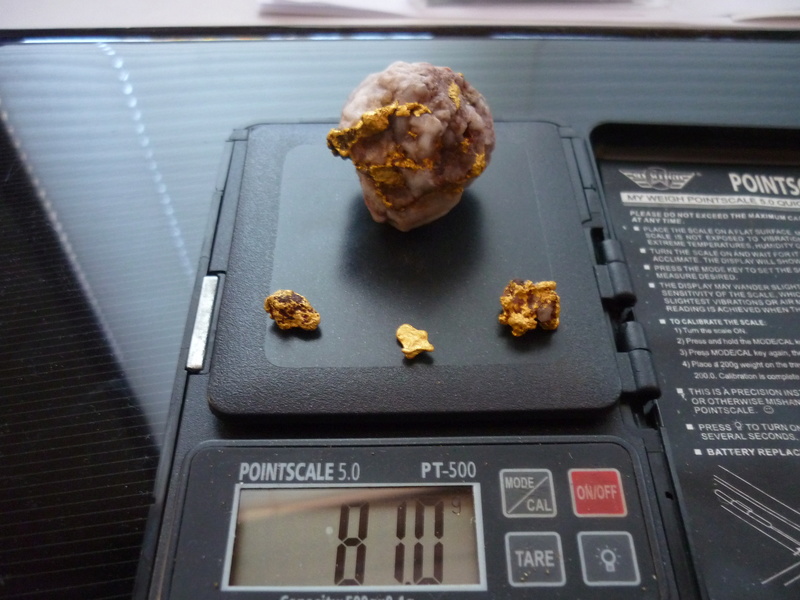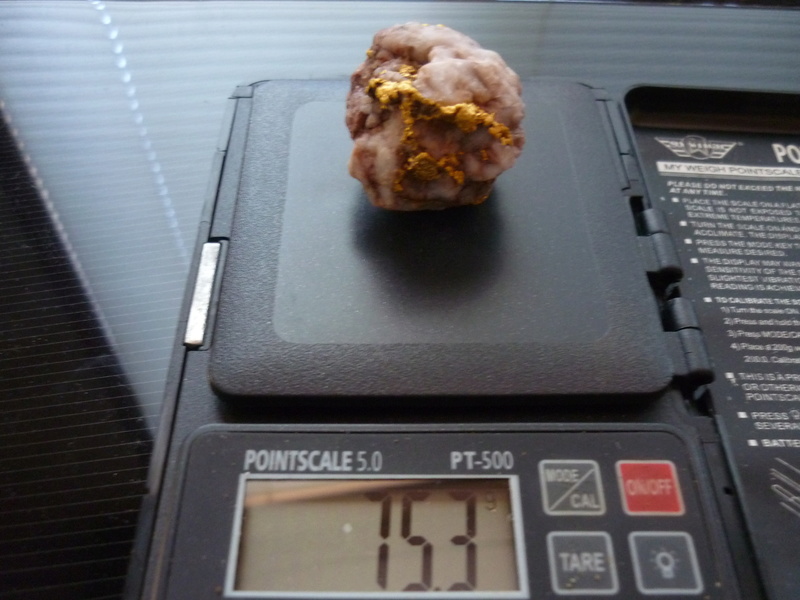 Great looking finds David, still have the smile on your face no doubt?
Do you have the formulae for working out gold in quartz?



_________________
Good luck & safe travels
Peter
"Aging seems to be the only available way to live a long life."


Nightjar





great find david, that big one could be worth a bit more than gold price, i just got back from Yalgoo and found 12 species but not course gold. got 18g out of them.
good work mate
cheers
martin

_________________
keep safe out there
Martin

martinjsto

Forum Admin





No Peter just guess work picked up a piece of qaurtz a bit bigger than speci weighed it 29gram and thought about a third would be on speci.
I will try weighing in water and see what i get.?
Good work Martin 18grams, I think your right about the speci being worth more than gold price .
thanks for your comments guys.cheers David
With Martin David, any sizeable white quartz specie with gold protruding will fetch a higher price.
The rough sketch below is how I go about getting the wet weight of a specie.
Scales resting on a piece of wood either in vice or nailed to a bench, protruding enough to be able to raise a container of water to submerge specie.
Piece of dowel or kebab stick laid across scale with cotton to tie to specie.
When dowel and cotton in place tare your scales.
Tie your specie and let in dangle. Record the DRY weight.
Now with a container filled with enough water to cover the specie completely with out touching sides of container raise it up under specie till submerged.
Record WET weight.
Formula in link below;
[You must be registered and logged in to see this link.]
_________________
Good luck & safe travels
Peter
"Aging seems to be the only available way to live a long life."


Nightjar





Thanks for the drawing Peter, tried the gravity test dry and in water according to the formula there is 47.2 grams of gold in the speci or 1.51 oz
cheers david
About 3 months in allbright speci down to 53g
Certainly been a slow process but a nice looking lump of gold.

Cheers

Phil

cruiser1





Yes Phil it as been slow there is probably another 5grams of quartz on it but Im happy with that cheers dave.
Nice chunk of filthy gold haha
Now ya just gotta find it's brothers, sisters and cousins and it will be party time haha

_________________
Life is what you make it, always has been, always will be.

Bignuggs

Forum Admin





I have found some of is little brothers but still looking for its  parents ha ha



---
Permissions in this forum:
You
cannot
reply to topics in this forum