Just wondering what the views of members are on best quad bike, 2wd against 4wd for detecting particularly up about the Kimberley's

salt-d





You could get away with a 2WD around the Goldfields where the terrain is alot flatter but in the Pilbara/Kimberley you would want the 4B.
In my time working in exploration we used Polaris but eventually moved to the Yamaha Grisleys and spent less time maintaining them and more time using them. The Honda Stockman is also worth looking at and are used by Parks and Wildlife in the Kimberley. Kevlar boot guards are a must to protect from sticks and spinefex and run-flat tyres to compensate for the hidden acacia stakes.

Trinket





Thanks for the reply Trinket

salt-d





salt-d wrote:Just wondering what the views  of members are on best quad bike, 2wd against 4wd for detecting  particularly up about the Kimberley's
You might want to consider the size and weight of both machines. You'll obviously be travelling a lot of road miles to get to were you are going to use the quad for a short stint. I bought the Honda 90 to start with. When it was new it struggled to pull two of us (three if you count Taz) around with 4 detectors, a crowbar, shovel and all the rest of the gear. After about 50 hours it loosened up and is great little machine. The only drawback is the lack of ground clearance. With only 100mm it can easily bottom out in the rough stuff. I can lift one end into the trailer then roll it forward and lift the other end in. Same if you get stuck somewhere, it can easily be manhandled because of the light weight.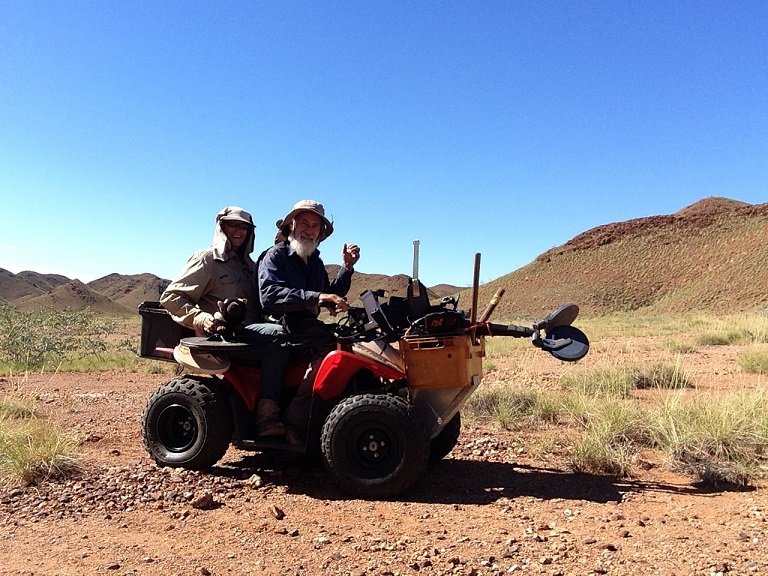 When it came time to upgrade to a second quad I could see no reason to go to the extra size, weight and expense of a 4WD. I ended up with a Honda 250 2WD and I'm very happy with that.
When it comes down to it they all fall over when the going gets rough and the heavy machines can be lethal.

_________________
Phil & Sandra

Moneybox





I did the quad bike thing for few years detecting and beach fishing (polaris 500cc 4x4) , but then went to the pilbarra MB area and found the quad to hard to get around,our friends who came with us had postie bikes and after trying one we were convinced they were perfect now the Dragon and myself both have postie bikes and they are the bomb for getting in and out of tight areas, plus the fact they run on the smell of a oily rag,around 30km per litre giving a range of approximately 190kms on a tank and only cost us $1000.00 each from the auctioneers at perth airport, both have milk crates mounted on the posty bag carrier at back we carry 10l of water and all our imediate detecting gear (two 5000s plus safety gear) we have ventured up to 50kms from camp on them and have explored a lot of country around Karatha etc and points further inland, plus the weight carried on our toy hauler has been reduced by almost half postie bikes 89kgs each 180kgs total versus the polaris 310 kgs, also less fuel to carry by half, just my two bobs worth guys bit long winded but hope it helps.
out there likes this post
A very late response to this post, Thanks Moneybox and Rustyhooks for your replys I did see them but didn't relise my reply didn't upload at the time.
I ended up with a Suzuki King Quad 4wd 300. like the idea of the low range/diff lock feature and the optional pull start.
Was a week short of heading west when they shut down the SA then WA boarders, hopefully all gets sorted enough with this virus before to far into next year. Thankfully things not to bad here in Queensland at present.
Did consider a postie bike a few years back but instead went for a new 125cc Ag bike and found out that I was not the young bloke of my somewhat younger days back on the farm
, a postie being lower and the one with the centrifical clutch would have been a far better idea and easier to manage however the stability of a quad now apeals even if means I have to tow a trailer.
Cheers. salt-d
Last edited by salt-d on Thu 13 Aug 2020, 7:00 am; edited 1 time in total (Reason for editing : spelling)

salt-d





rustyhooks likes this post
---
Permissions in this forum:
You
cannot
reply to topics in this forum