Decided to brave the heat and head out to Tambourah for a few days and give the 5000 and SDC a run. First gold was found with the SDC ( a $2 coin of all things) and then the 5000 started paying for itself with a small 0.9g nugget at about 8" then a nice 4.6g sunbaker both within about 10m of each other. Spent the next 3 hrs trying to find their mates but none came to light and by then it had hit 47deg so time to call it quits with the only other find being a R.Bell and Co matchbox that is still intact barring a few tiny rust holes in the lid.  Was very happy as its my first gold from WA and the first gold for the new detector on the second trip out. First was out to Marble Bar last week which only amounted to bullets and junk. May need to go back out there when it cools off a bit.
First piece to come to light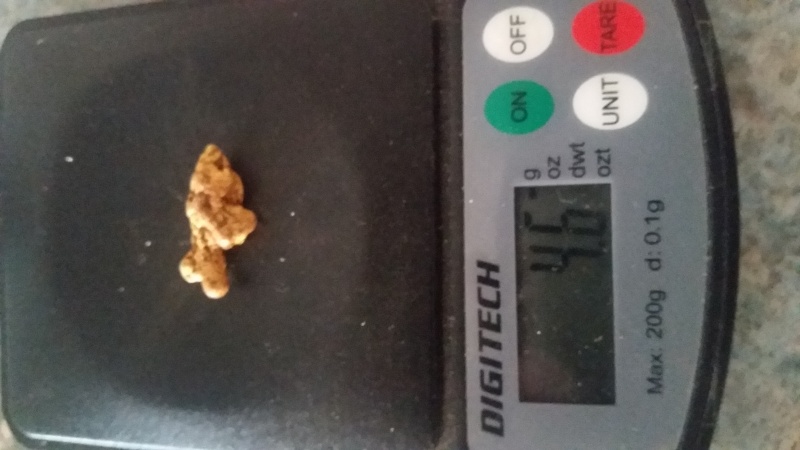 The lovely 4.6g sunbaker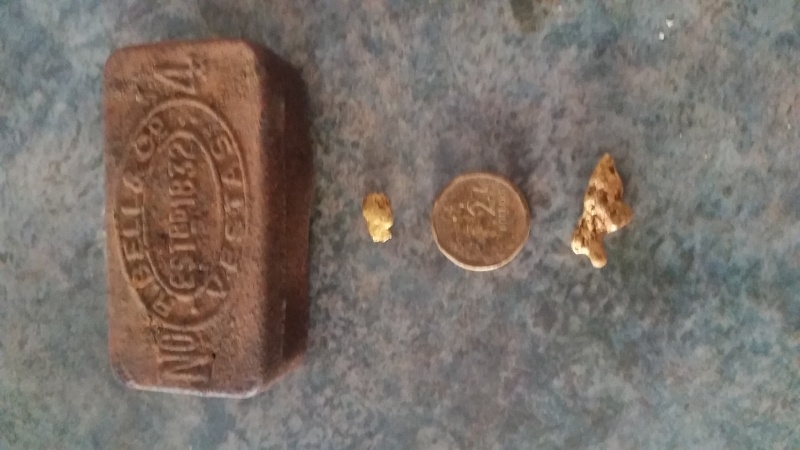 Finds for the 2 days less the multitude of bullets shell casings and junk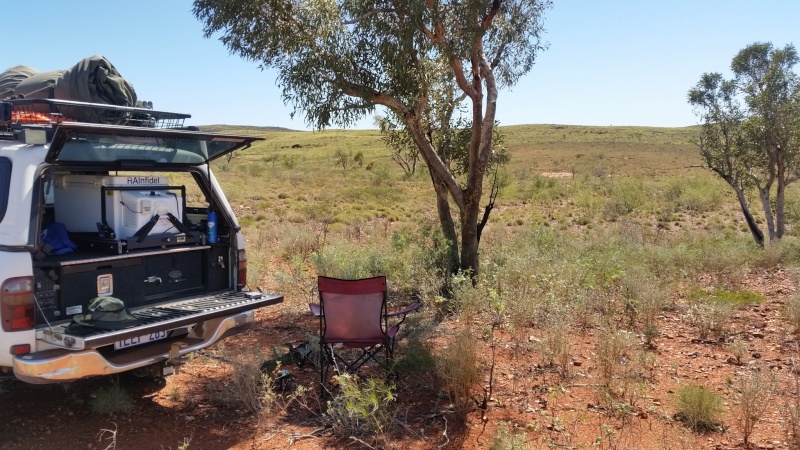 Gotta make the most of what little shade there was
Nice place to spend the night

fredsnugget





thanks for the story and pics fredsnuggets, that is just too hot for me mate, lol. at least you could take a quick dip to wash the dust off. well done on finding your first bit of WA gold. sure looks like a nice place to camp.
cheers
martin

_________________
keep safe out there
Martin

martinjsto

Forum Admin





Was a nice spot to sit and have a beer in the arvo(in the river) .Yeah was to hot but itching to give new detector a run while I had a chance. A frozen camel back on was like a personal air con lol

fredsnugget





Hey Fred,
What fridge you got tucked in the back of your travel?
You're on a roll with your first finds.








_________________
Good luck & safe travels
Peter
"Aging seems to be the only available way to live a long life."


Nightjar





Its an evacool 60l on a drop down slide. Keeps the beer icy cold even in the hottest days. Best thing i ever bought

fredsnugget





I'm hoping its the first of many more. Cant believe the difference in colour though from the ones from nsw.

fredsnugget





Fred I love the sunbaker. We've found a few but all tiny little things. I had to Google Tambourah. I've never even heard of it but I guess for you it's not too far from home.

_________________
Phil & Sandra

Moneybox





FredsNugget
Nice Wa gold mate .
Should keep names out of finds .
You realize you just told every goldnomad in Australia,
Where to head after they,ve milked the southern goldfields.

mark409





Theres alot of empty ground out there so good luck if someone wants to have a look. You still have to put the coil over it to find it. Im sure theres more than enough empty space to keep em occupied. Now if I'd found the mother load it would have just been " The Pilbara" lol

fredsnugget





Nice gold there .. glad to see your getting onto it.
Would have been a warm night out there.No problems with camels or donkeys at night being so close to the water?

Nosralt





Hey Nosralt. Yes was a touch warm. Hadn't even considered donkeys or camels. Thought I may have got a few blow ins coming down for a drink but other than the 10 billion flies that then shift change with as many mossies at night the only other sign of life of saw in 2 days was a lonely old big red roo up in the hills. A camel or donkey coming for dinner would have been different, would have felt like I was back in the middle east. Will have to organise a time to catch up

fredsnugget





---
Permissions in this forum:
You
cannot
reply to topics in this forum