John and I went up to Paynes Find for a few days, we were busting to get out there and swing the coil. The area we went to was new ground for us but there was evidence that the old timers had been there, some shafts and dryblowings rusty bully beef tins you know what I mean. Well we stopped at a likely spot Laterite over Calcrete nice shallow ground, I picked up 3 pieces that first avo John got zip my 4500 out did his 5000 I was get'n cheeky haha. We decided to move on and have a look around we came across an old geezer living in a bongo bus he was camped near a creek at the foot of a quartz n ironstone covered ridge there were shafts all across the top of the ridge. We introduced ourselves his name was Neil and he had been prospecting some 20 years he showed us some small pieces he had found were he was camped then told us some history of the area and told us there were more dryblowings and scrapes further along the track we were on. We heeded his advice and drove further around the range of hills till we found the dryblowings , scraped area, we spent some time here with no luck so we decided to head back to where I picked up the earlier pieces, we camped at this location for duration of our trip I had 8 pieces by day 3, John still had zip and it was starting to show haha. It was about 3pm when I found number 8 so I decided to call it quits and have a beer put the feet up, anyway along comes John he has his scales, he says ok lets weigh your gold, so we weigh my wee bits then John says ok now I'll weigh mine, shock horror when did you get a piece I enquired in disbelief ? John is a man who holds his cards close to his chest bloody sly fox I thought, I dug these 2 about 20 minutes ago he told me as he tipped 2 nuggets into the palm of his hand the 2 grammer was a nice piece but the weird thing was we both ended our trip with the same amount of gold hard to believe but it was a fairy tale ending for John I'm glad he found the nuggets it topped off a great trip, it was just a awesome feeling being out there prospecting, camping sitting around the fire at night talking sh*t bloody love it, heading out again for 2 weeks next month with Phil (cruiser 1 ) gunna be huge.
Cheers Kev
7477758]
[/url]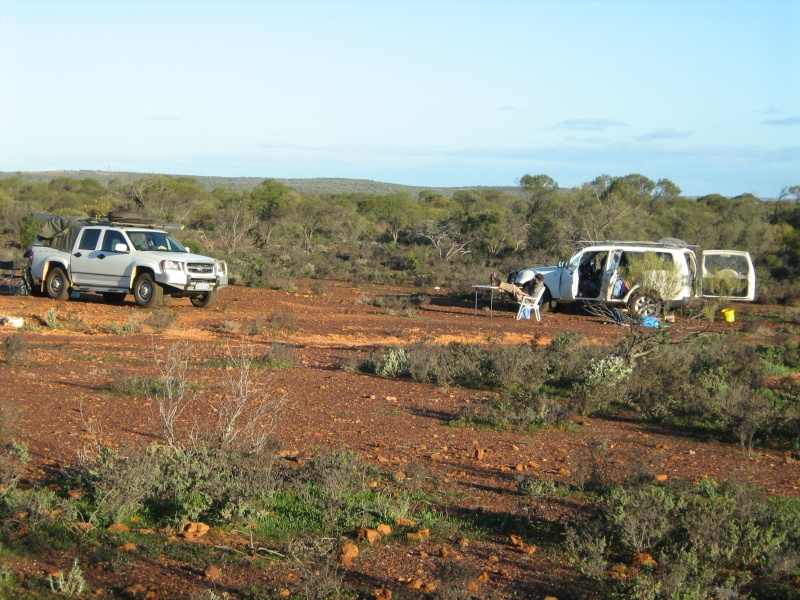 Biggest Kev





Ya lucky buggers and good to see ya's had a great time and found some gold.
Did ya's take more pics ?

Cheers
Cliff

_________________
Life is what you make it, always has been, always will be.

Bignuggs

Forum Admin





Nice gold Kev and great pics.John certainly looks relaxed and taking in the scenery in the pics.Only thing there is not many empties lying around the table,or should I say tables.Nah good on ya Kev,can`t wait till we take off in a few weeks..
Cheers

Phil

cruiser1





Good work fellas, begs the question, what would you rather 8 bits or 2 for the same weight?

snapper





nice one kev good to see ya pinged a few  

_________________
Do not go where the path may lead,
Go instead where there is no path and leave a trail.

Flying kiwi





Good story and nice nuggets there kev well done
Cheers bluedog
Well done Kev
Met Neil when I was there couple months ago, had a few beers with him, bit of a character!
Going up there with Nuggie Dreamer on Thursday for a few days
Regards Pete
Thanks Pete and goodluck out there, still plenty nugs out there just got to swing coil over them. Yeah we had a surprise visit by Neil he came walking into our camp one night yodelling as he went, made me jump up out of my chair, John yelled get the shotgun Kev haha 
 he can tell a good yarn nice friendly bloke.
Cheers Kev

Biggest Kev





Thanks Kev
Yeah, still some nugs everywhere mate, just got to be patient and enjoy being there
Ole Neil loves a beer and a chin wag mate, we might see him there, but he wouldn't want to come at night yodelin, Nuggies dog will scare the shite out of him hahaha!
Pete
well done kev an john, always nice to pull a few while your enjoying life in the bush.
I've been up that area 3 times and never met this Neil character, mind you twice it was hot and the other time it was after good rain and the place was drenched.
clog's and deet's good luck out there guy's, seems to be a spot were they keep coming out the ground so I'm sure you will ping a few.
I'm missing out again but trying to stay on the good side off the wifey til me trip late august, mind you I'm still trying to find her good side 
have a good one fella's
jase

_________________
get out there and get it

aussie18





a few more pics, hopefully more stories as well who knows I might be on a roll now. My last find has beaten cloggsie's Pete's tally for the last 1/2 dozen trips and I think he's OK with it now he he.
...just hope the ants and midgies stay away for once. The dog can't wait either until that is he gets sight of his muzzle again!  

NuggieDreamer





---
Permissions in this forum:
You
cannot
reply to topics in this forum