Hey all,
I found this a few trips ago, wrong colour I know 
 and my son wants to use it for a school project so I thought I would try to find out some more about it.
I know nothing about this sort of thing so I thought I'd ask here.
All I can tell you is that it was found in an area that looked like an old camp, I mean like real old, it was right near a dry creek bed and you could see where the rocks where worn smooth from what we could guess looked like some sort of grinding, kind like a big mortar and pestle. There were a few other bit that were broken which in hindsight I should have grabbed.
Anyway I just wondered what exactly it was used for and is called and roughly how old would it be?
Or does anyone know anyone or know where I could find out more info about it?
Thanks in advance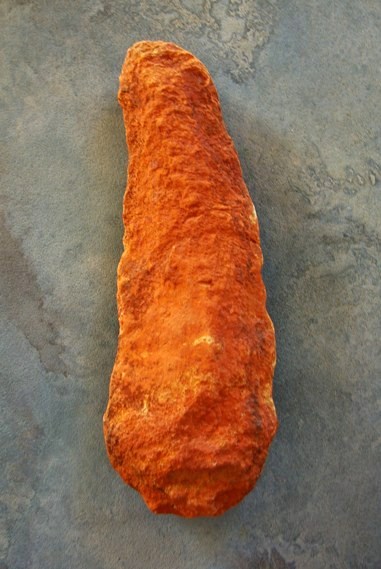 It feels like it fitted someones hand slightly smaller than mine...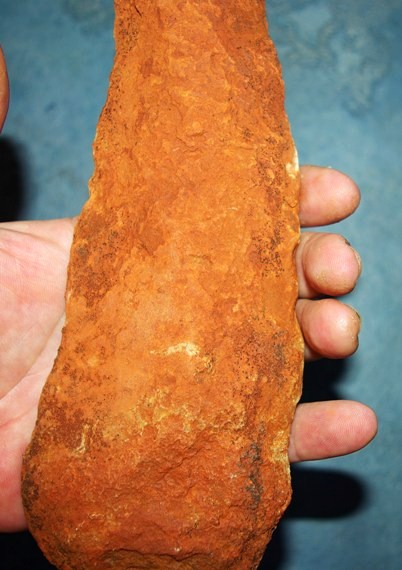 Not to sure what it could be as it doesn't look smooth enough to be a grinding tool.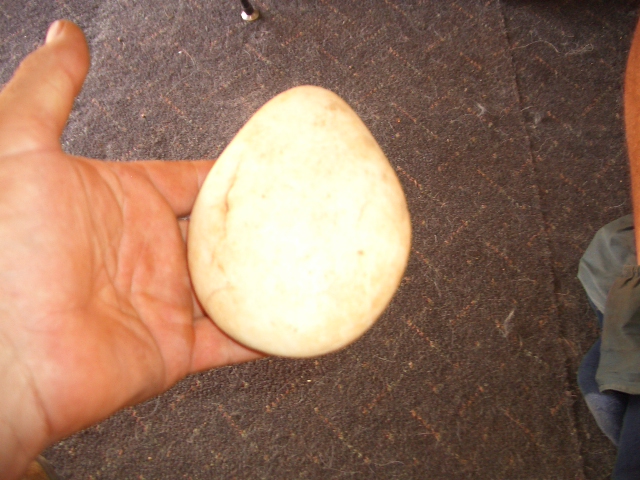 Above is a quartz grinding stone.
I have some pics of other grinding stones and will post when I find them

snapper





just a wild guess but was thinking it was used as a weapon when the boys are on the wobbla, or a sex tool for the lady's no no no bad picture in my head,
that's enough from me



_________________
get out there and get it

aussie18





If it fits nicely in your hand it could be a conch [don't know the spelling] you know, whoever holds it is the speaker haha

snapper





Yeah I don't think it's for grinding, could be a weapon....

Found this on google, no pic but,

Hafted Heads

These are quite heavy, and are made from Greywacke. From the amount of surface weathering they appear to be very old, and they do not appear to have been very sharp. One end bears a convex ground cutting edge, the other is a more rounded clublike shape. They have a groove around the middle for a bark or split lath handle. From their weight and shape they seem more suitable as weapons than for cutting or shaping wood.
To me looks like a digging tool... put into a shaft of  piece of Mulga & bound up it would resemble a adze or pick.
Mostly the natives ate vegetarian or insects, a roo  or Bungarra if they were fortunate. A digging tool like this would be a very handy item.
For tubers, honey ants, Bardi grubs etc
By the way it is now illegal to remove native artifacts from their locations ... so be very careful how you advertise your find
Like anybody I was guilty of walking off with a few items before I realised that they belong where they belong.
There is never a time in the bush where I do not find artifacts, once you know what you are looking for they are like neon signs
I prefer now to sit & wonder... take in the ambiance... & realise what a hard life it was to scrape a feed every day of the year..
That's why they became & still are fringe dwellers its all about food  

Viper





Yeah thanks for the heads up in doing some research I see it is now illegal, didn't know that at the time so yeah I'll be taking pics next time for sure....
Hillsboy
get in touch with the Aboriginal Heratige and Archelogical organisations that handles such items of interest.
Do Not Advertise for sale.
Explain to them what u have and get them to come and pick them up for further investigation..to b sure.
If you have GPS co-ordinates then the rest will b history..

Good Luck.

regards
oneday
Ahhhhhhh!!  
Ive seen heaps of these in me bush travels all over good old Oz.
Now i could be way off the mark here but, i reckon it's an "old" one of these Aboriginal hand tools  
-
-
-
-
-
-
_________________

CrazyPete

Forum Admin





dunno hillsboy if it is an aborig tool at all , iv found & left plenty of grind stones & the grind plates , found in mulga areas to mill seeds , usually they are some metres apart & are left in that position to indicate the direction of waterholes & the distance between the stones told how far the waterhole . as for that one, does it resemble the surrounding rock rubble ? the outstanding thing iv noticed is that the stones are usually different from that area that are left & also that one looks too rough to be anything , most tools were of very hard stone , smoothish eg dolerite / granatoids & the hand grinders were quartz usually ...im not an anthropologist myself ,just stuff iv noticed .

albo





Here is another grinding stone,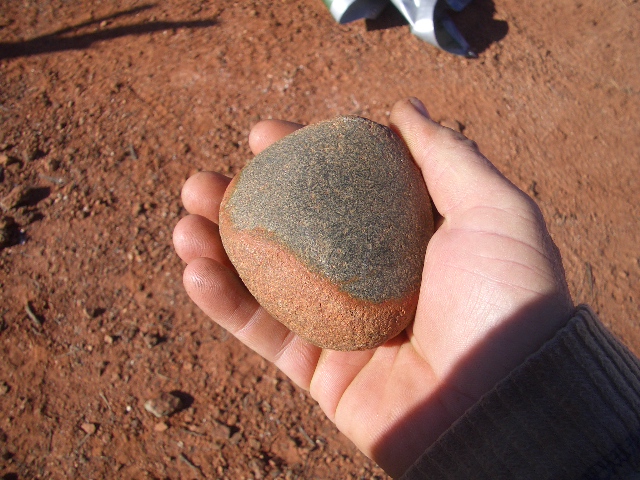 snapper





---
Permissions in this forum:
You
cannot
reply to topics in this forum