Hi all, after the muster a few of us headed out and camped north of Cue, the weather was great and the company even better having some great tails and stories told around the camp fire. the gold came in slowly for us all but i found a small gully and pinged a nice 1.3g piece close to the top which lead me into the gully and then i got another 1.7g piece but realised there were more targets coming from the hole. after i thought i cleaned it out i cleared the rocks and swung again only to get another target, well this went on and on for days and I eventually ending up with 64 bits for around 24 grams and a big hole. a great find that I will need to return to in the near future as every time i clear a spot i get gold. some pics attached plus a short vid of the area.
the things we do for gold eh!
cheers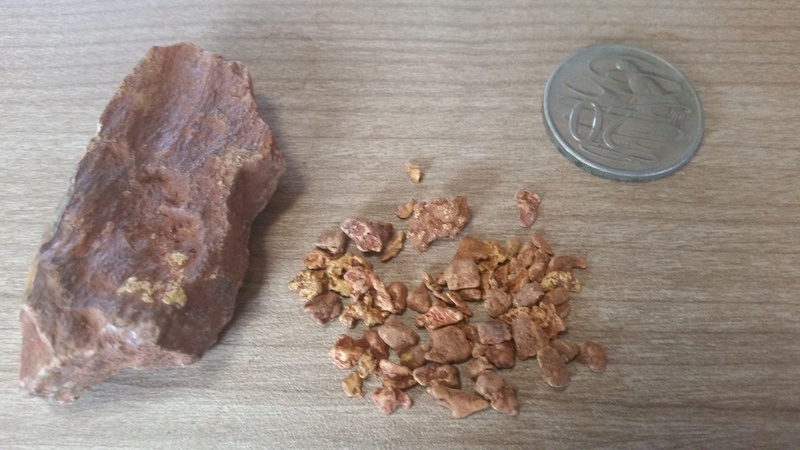 Last edited by martinjsto on Sat 20 Aug 2016, 8:05 pm; edited 2 times in total

_________________
keep safe out there
Martin

martinjsto

Forum Admin





Hey Martin nice gold good onya hope you get a lot more


Cheers bluedog
Hi Martin, Good patch there, i would be going over that with a 5000 x18" elite or 7000 with the new 19" when she comes out. Did you get all that with the 2300 as per the video?.Great effort.

Cheers
Greg
Hello Martin.. Looking for a detecting Buddy soon Neighbour ...

:


gut feeling





Hi Martin
If you give me the coords, I'll head up there and protect the spot with my
detector
 I meant my life, I did really  


Good stuff anyway, lots of filthy gold  


_________________
Life is what you make it, always has been, always will be.

Bignuggs

Forum Admin





Hope you covered your tracks well Martin and no GPS co-ords on your photos or that area will be scraped by the time you get back.
Must have been very exciting to get onto a patch like that.


_________________
Good luck & safe travels
Peter
"Aging seems to be the only available way to live a long life."


Nightjar





thanks for all the great comments fellas and gals. its a hard place to get to and i covered the track a bit as best i could but at the end of the day you cannot stop people and if they willing to do what i did to get a little bit that I may of left then good luck to them. believe me its hard work  for small bits of gold. i used the SDC pretty well for all of it except for the first bit of around 1.7g that i found with the 5K and 14 inch elite.
hey bluedog, when are you getting back over hear buddy, love to catch up again mate.
im hoping to get back there soon so i may need you cliff as a caretaker until then lolol.. we did try a 7k on the spot with a known target in the ground but you couldn't discriminate the target from the ground noise. im getting a good ear for the SDC and i believe many wont even hear what i hear. in the last two trips i have got over 4 oz with her. i run the SDC on 5 just about everywhere even on some of the most hottest ground i have ever encountered but can still pick the gold from the ground noise or hotrocks, most of the time anyway.
i have replied to your PM gut feeling.  

cheers buddy.
you are right Peter, very exciting when you know every target is gold and every shovel of dirt gives up a piece or two or 4 or 5 in some cases and you still have another 12 inches or so to remove to get to the bedrock.
oh i forgot to mention i buried a few landmines in the patch, naa only kidding,  

cheers everyone.

_________________
keep safe out there
Martin

martinjsto

Forum Admin





Hey could be at the next muster
Cheers bluedog

---
Permissions in this forum:
You
cannot
reply to topics in this forum