Our efforts at the muster didn't uncover much gold but we ended up heading north to Meekatharra. From there we restocked our supplies and then looked for a likely bit of pending ground. We found an area showing several historic mines adjacent to an active lease. The area was surrounded by the usual salt & pepper ground but the mining activity was in laterite. We camped overnight and spent the next day going over what looked like a very old dryblowing pile of fine broken down rock. We each pulled out a small specie, one in solid stone and one in crumbling laterite but each showing gold from several sides.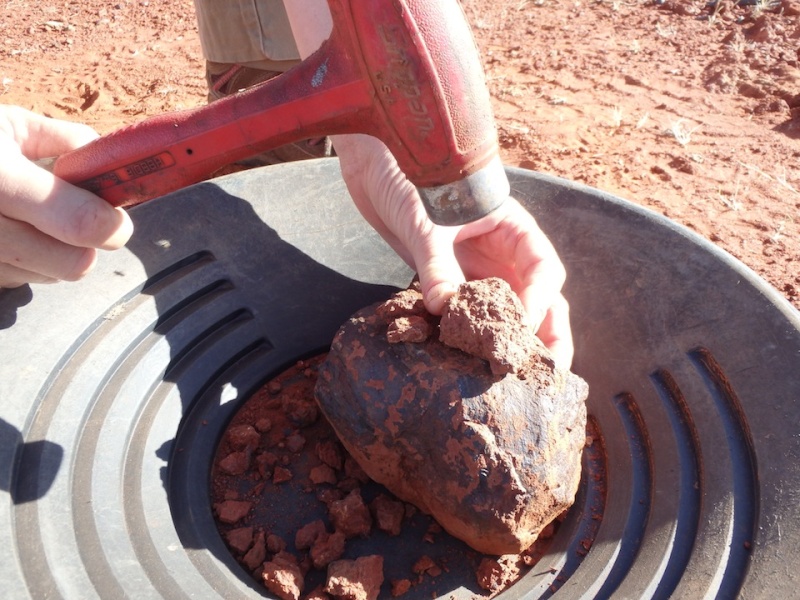 I thought I'd be smart with the laterite and crush it a little with the multigrips. Mrs M grumbled and told me to just be patient and wait for the Alibright. I squeezed it one way and it just crushed a bit. Then I turned it 90 deg and squeezed it again with the same result. One more turn and a little squeeze and the whole thing shattered.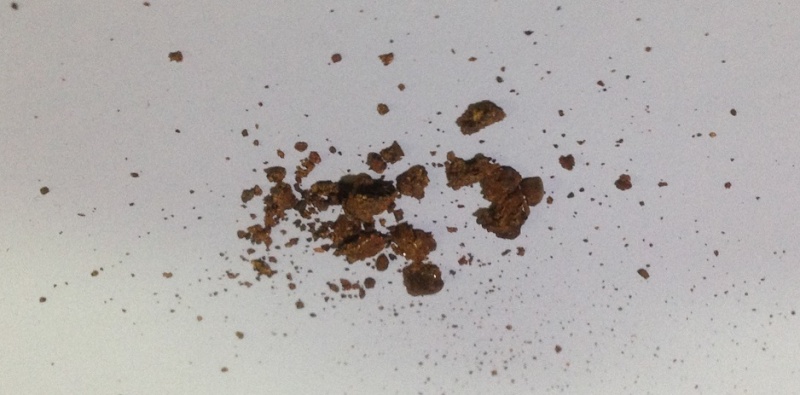 I ended up with an awful lot of tiny bits of gold still clinging to the laterite and I'm never going to hear the end of it.....
From there we moved to a new patch but ended up on the wrong track. We came to a small lease with a new shallow excavation above a gully. We carefully studied Geomap as well as our 100k paper map and placed ourselves just outside the active lease and started detecting in the gully. After Mrs M pulled out her first little nugget the lease owner turned up and started on about us invading his space. I pointed out where I figured his lease boundary was and he settled down a bit but still argued the point. He claimed that Tengraph was stealing 100m off the side of his lease. I told him that we were not there to argue with him and said that we'd move one. With that he drew me a mudmap of a likely spot to find gold about 8km away.
We followed his very vague instructions along with the 100k map and found our way in. Just before getting to the spot he had  recommended we came a across a couple detecting what looked like about 4 acres of gently sloping clear ground. It was already covered with chain marks but they were redoing it with the GPZ7000 and the SDC2300. He said we had arrived a day late because there were a half dozen more there the day before. I told him where we intended to go but he recommended we just pop around the corner and do the 2 acre patch they had finished with the 7000. He said "You won't get much but there's gold there". It seemed like our best option.
 I told him where we'd been and he said we should have stayed there because we were not on the guy's lease at all. The lease owner just does his best to remove anybody near his patch.
We found a spot that was flat and level with no ground cover and very few stones. It was dark by the time we setup camp but while Mrs M was lighting the fire and getting some dinner prepared I took her SDC for a swing in a random arc over the patch. I must have been out there for an hour but returned with 5 tiny little nuggets. Yoohoo!!
I was up early in the morning (while Mrs M was snoozing  

) and swinging the SDC by 7am. These things were so small I figured I was wasting my time with the ATX. By the time I returned for breakfast I had ten more. We took turns to do several lengths of the paddock at a time. This was on a patch that had been cross chained with the 5000 and 7000 and then diagonally chained and diagonally chained again in opposite directions. I just had to chain over the earlier marks and try not to get off on the wrong set of marks. It was our first real effort at chaining properly and we think we did a pretty good job.
It took us a week with the one little 8" coil to detect an acre for 200 little nuggets.
Overall we dug up 250 nuggets for 35g along with 12 species.
 Most of the species were gold in ironstone. One larger one is in a chunk of quartz. It sets off the detector nicely but we can't see anything in it. It came from the top of the ridge where the gold came from so I'm confident there's a little bit of gold inside.

_________________
Phil & Sandra

Moneybox





Well done guys, sounds like you had a great time out there!

Cheers
Stingray
what an excellent result phil and sandra, great to hear you are getting the hang of the SDC, its a great machine and will pull in the gold once you understand what it is saying to you. listen for the faintest break in the threshold that repeats and once you get the surface crap off and she will sound heaps better if its a target. sometimes its better to just move on rather than start a argument with a fired up lease holder but he should also respect that you have checked your location and was on pending ground, at least he put you on gold so in the end all was good. i have found that iron pyrites in quartz gives off a great signal but if its in the ridge that the gold has come from it should be gold. just smash it and see. keep this rate up and you can buy another SDC,


well done guys
Martin and Karen

_________________
keep safe out there
Martin

martinjsto

Forum Admin





Good post & nice to read some Gold coming your way

SDC + W.A = Gold

Well done

Ttrash





Well done Phil & Sandra. Great story, excellent result and worth the effort. See you next year at the muster. Bob & Joan
well done guy's
nice result for sure
congrat's on a successful trip

jase

gold n beer





Good stuff. forget about the bottles, gold is good


_________________
Life is what you make it, always has been, always will be.

Bignuggs

Forum Admin





Wow, great effort you two.
_________________
Annie 
Told ya Meeka was a better option... Hope the new info helped
, well done glad for you.

NuggieDreamer





Well done guys, Thanks for the story. All those little bits do add up, but most of the fun is in the finding - 250 times.

MarkVic






---
Permissions in this forum:
You
cannot
reply to topics in this forum