So I have had some species soaking for some time now and started to clean them out
I was surprised how much fine gold was in them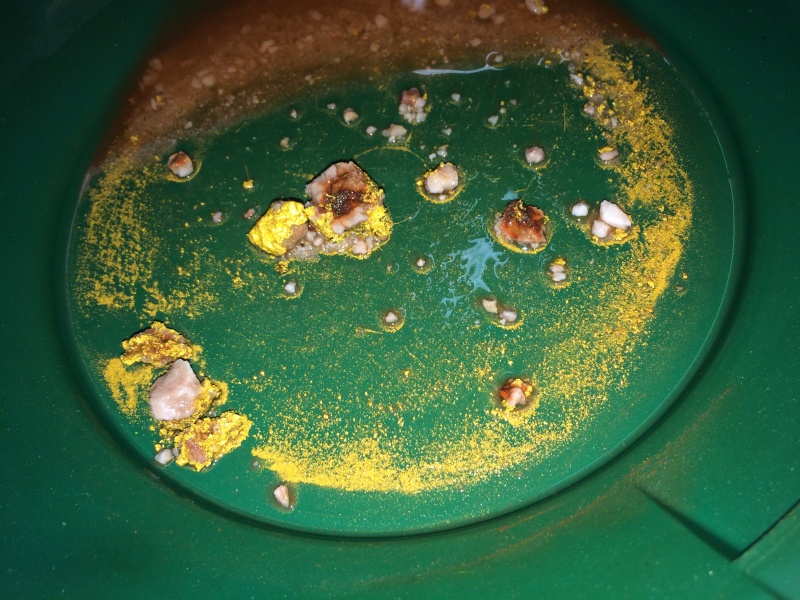 Peaky

_________________
Next Step Could Be GOLD

Peaky





yes i got a lot of fine gold also peaky, its difficult to separate when there is black sand combined. i found that if i redo the waist washed out of the pan after crushing i got even more, another 0.8g so worth doing twice. makes you wonder how much is in the rock not showing any visible gold. looks like soaking in acid until all the rock is dissolved will recover more of the gold compared to crushing and panning.

_________________
keep safe out there
Martin

martinjsto

Forum Admin





Hi Martin

Yes I think the Acid Barth is the way to go but it takes time

I think I have had this lot soaking for 2 weeks and will need to put the big bits back in for a couple more

I will get some pliers and try to break the rock up a bit to help it on its way

I am just surprised at all the fine gold

Now I just need to work out how to collect it all

Peaky

_________________
Next Step Could Be GOLD

Peaky





best to use a gold guzzler to pick it up, i use the garret one, just add some water and get it all in the corner and suck it up squeezing the bottle and releasing with the tube close to the gold then empty into a pan and heat to dry. i have collected nearly an oz of fines doing it this way and you dont miss any.
cheers

_________________
keep safe out there
Martin

martinjsto

Forum Admin





Peaky, are you using alibrite or something stronger?
just wondering as when we use alibrite it takes months sometimes and we change solution every 2 or 3 weeks.
also do you leave it in a warm location or does that not matter as we found that if it is in sun behind glass it seems to work better. It does not get rid of ironstone though. Thanks TG

---
Permissions in this forum:
You
cannot
reply to topics in this forum